When you register with Panoramic Feedback, you'll receive free access to our 12-page Workbook for recipients of feedback.
The Workbook includes a full set of exercises to help readers identify their most important areas for change.
You can use the Workbook in ways that suit your development design. Supply a copy to each recipient as an aid to self-development. Or use it as a tool for one-on-one coaching.
The text is keyed to each section of the recipients' 360 report, so it guides them through smoothly and identifies every nugget of helpful information.
It encourages an affirmative, solution-focused approach, emphasizing the importance of recalling past successes, gathering helpful resources, looking to encouraging models, and enlisting the support of colleagues.
Available in English and French.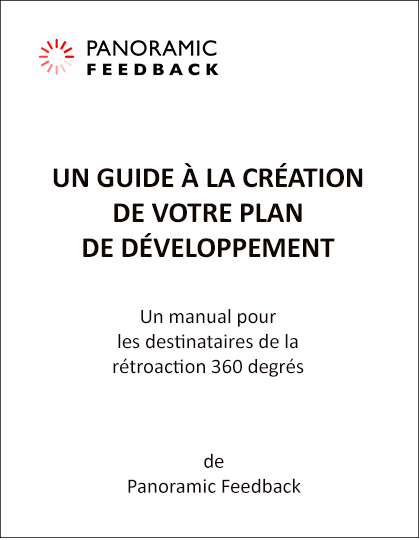 Sample Topics
Enhancing your strengths
Areas for development
Gathering resources to support your development
Goal-setting
Preventing slippage into old patterns
Creating an action plan